It isn't even a fortnight and the entire country is speculating how Sushant Singh Rajput died. The talented actor who was only 11 films old had a promising run at the box office due to his hard work and intelligence. He was surely expected to be the next big thing in Bollywood. A rank outsider with an engineering degree from a reputed institute and a science olympiad champion, he was the right man in the wrong company for film buffs like us.
But is he the first casualty of nepotism and favouritism? Certainly Not! There is an umpteen number of people in the creative field, who all would love to make a mark. Very few could taste the initial success as Rajput did. But despite his achievements on and off-screen he had to succumb to the pressure tactics of the lobbyists, some die-hard pursuers of nepotism. This tragedy has taught us one lesson- you cannot be vulnerable to such an extent if you are venturing out of your comfort zone to make your presence felt in unfamiliar territory.
It'll never be revealed whether RD Burman was a casualty of depression
You all must be wondering that what Late Rahul Dev Burman's 81st birth anniversary has got to do with this tragedy. Well! The entire nation is mourning the death of the academically strong promising young man as well as preparing for the birth celebrations of the most popular music composer till date. Many may disagree but Panchamda's popularity has grown leaps and bounds over the years after his death, which is a testimony to the fact that he continues to rule the market of remix music.
He enjoyed a stupendous partnership with Kishore Kumar and the Mangeshkar siblings but muse Asha used to accuse him of favouring Lata for the best songs.
Nepotism was the least known term in the 60s
Some of you may feel that Rahul Dev Burman was a beneficiary of nepotism as he was the son of another legend Late Sachin Dev Burman. But for your knowledge, let me assure you that despite the stupendous success the Bengali folk king Sachin Karta achieved, he wasn't ever an influential figure who could call shots. He didn't compose for many films like his contemporaries and had restricted his creativity for a few directors and banners. Sachin da as he was fondly referred to by his colleagues, never called the shots. Most of the banners that made RD a household name never worked with SD because of his whims and mood swings.
We all know how successful RD was as a trendsetter in the 70s, who continued to deliver chart-busters in the 80s. There have been abundant write-ups on his music and its success. Now let us scrutinize his so-called failures and catch a glimpse of the darker side of the show business.
He wasn't enough articulate
Blame it on his dropping out of school and lack of formal academic background, he never knew to play with words. He was asked about Bappi Lahiri's soaring success by a journo during the 80s and his reply was – "Why ask me? My 23 films have flopped in a row!"
He could have given a smarter answer. His 24th film was Sunny which wasn't a blockbuster. But the music has received retrospective success after years of its release. Do you remember Lata's fine rendition of Jaane Kya Baat Hai and a relatively new singer Suresh Wadekar mesmerizing us with Aur Kya Ahde Wafa Hote Hai?
Had he refrained from saying anything negative about the failures of his films, he could have publicized the music of his next release Sunny. The result- Film fared average at the box office and the music went unnoticed after release.
He didn't expect backstabbing from stalwarts
Clueless about who to blame for the imbroglio surrounding Ram Lakhan. Subhash Ghai was making two films simultaneously- Deva with Amitabh Bachchan and Laxmikant Pyarelal and Ram Lakhan with Anil Madhuri Jackie and Pancham.
Devaa got shelved after two schedules and LP was roped in for Ram Lakhan allegedly without Pancham's knowledge. Singer Shailendra Singh once recalled that they were almost ready for a song recording and all of a sudden they got to hear that the recording has been called off and it will remain suspended until further notice.
Later on, when RD heard that his friends cum contemporaries were on board for Ram Lakhan, he felt bad that at this hour when I needed work, I have been replaced unceremoniously. He didn't realize who politicked.
Making public his ordeal
During a filmy party, once Shammi Kapoor asked him- "Why don't we hear you these days?" To which he replied that for the last five months he didn't record a single song.
Shammi's nephew Rishi Kapoor had another incident to share. Every day while passing through his house, he could spot the same clothes in the balcony. Out of curiosity, he called up Pancham about this. He was shocked to hear that the curtains do not cover everything. The clothes enable me to conceal myself inside. People shouldn't know that RD Burman is out of work.
Don't you feel that these statements are from a person who was feeling lost inside?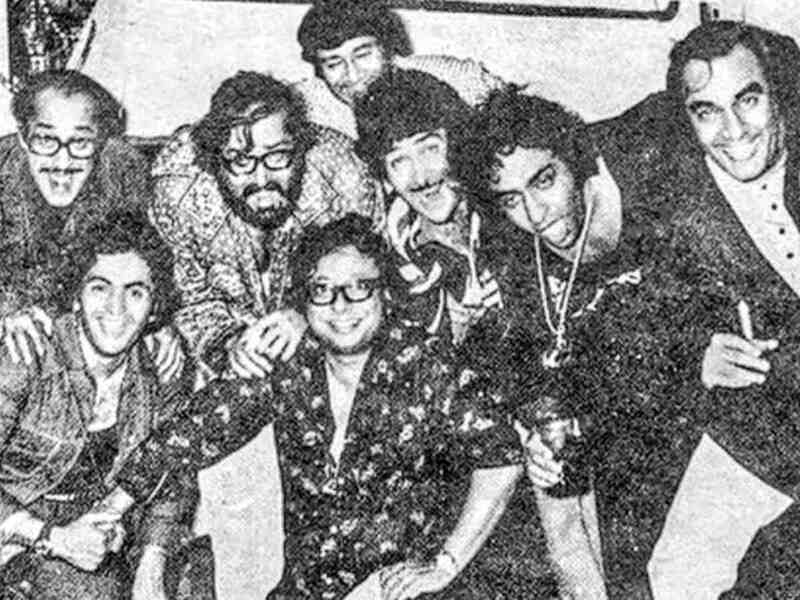 On May 2019, Late Actor Rishi Kapoor had shared this throwback picture from RD's birthday bash. We can spot Dev Anand at the back with Naseer Hussain, Shammi Kapoor, Randhir Kapoor, Ranjit, Premnath with Chintu and Pancham in the front. RD was known for throwing lavish parties and many invitees were outspoken about the extravagance of the same.
Sycophants mislead
Even at the peak of his career, he was misguided by his associates. Quite similar to his friend India's first superstar Rajesh Khanna, Rahul was always surrounded by sycophants or yes men as you call them. They mislead you in every step. Kaka also lost his stardom due to this.
Let us cite the example of Bobby. It was in the early 70s when Raj Kapoor was keen to have Pancham on board for Bobby. But RD's trusted few advised him against the RK lobby.
They believed that in all the immortal music that came from the RK Banner had nothing to do with the music director. Raj Kapoor will have say in every aspect and your music will be branded as Raj Kapoor's music. Better not to work for any RK film.
But Pancham repented much later for not signing Bobby. It was during the next RK venture Dharam Karam, Randhir Kapoor broke the ice and RD realized that he made a mistake by disengaging himself from Bobby. Randhir or Dabboo as he was fondly called had always attributed his success to RD.
Patrons changing tracks
With Nasir Hussain, he had a string of hit music right from Teesri Manzil, Baharon Ke Sapne, Pyar Ka Mausam, Caravan, Yaadon Ki Baraat, Hum Kisise Kum Nahin, Zamane Ko Dikhana Hai, Manzil Manzil and Zabardast. When Hussain wanted to launch his nephew Amir Khan for Qayamat Se Qayamat Tak, he roped in his son Mansoor to direct a youthful film. Mansoor was aghast in dictating anything to his beloved Pancham uncle as he had seen him as a father figure making way for a new breed of musicians Anand Millind.
The same saga was with the Sippys. Sagar was a box office flop but its music is popular till today. But it seemed that he was held primarily responsible for the tanking of the film. It was his last film with the Sagars after Seeta Aur Geeta, Sholay, Shaan and Shakti.
Failure of the Loyalists
It is said that nothing succeeds like success. Gulzar did continue to make films with him. But Ijazaat bombed miserably and Libaas is still unreleased. Die-hard RD fans must admit that both the albums had soulful music.
Randhir Kapoor decided to take a sabbatical after the failure of Harjaee and Amitabh getting all the accolades in Pukar. Shakti Samanta's films couldn't do much for his career as the hit director of the 60s and 70s started to lose touch with the audience.
Same goes with Vidhu Vinod Chopra who was bailed out by RD during the making of Parinda and was finding it difficult to sell the music rights of 1942 A Love Story in RD Burman's name.
Aren't these enough for a person to lose hope?
 The man who was the heir of the royal family of Tripura and had the nation at his feet almost died penniless. He couldn't even witness the phenomenal success of his last musical blockbuster 1942 A Love Story. If box office collections are determinant of a musician's success, then he missed out on the success of Ghatak too. Both the films were released after his demise.
Today programmes are organized all across the country but this adulation was missing when the maestro was alive. Had he survived a couple of decades more, he could have earned a lot from the royalty of the remixes of his original songs.
But do you think that he would have approved of such distortions?